FULL LENGTH PROJECTS: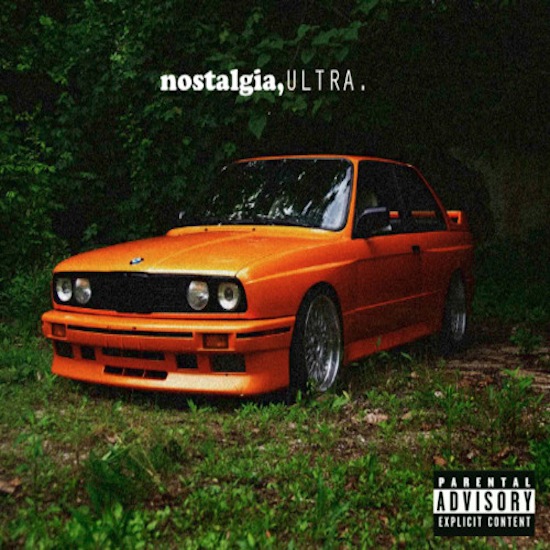 nostalgia, ULTRA. [2011]
1. Streetfighter
2. Strawberry Swing
3. Novacane
4. We All Try
5. Bitches Talkin' (Metal Gear Solid)
6. Songs 4 Women
7. LoveCrimes
8. Goldeneye
9. There Will Be Tears
10. Swim Good
11. Dust
12. American Wedding
13. Soul Calibur
14. Nature Feels
Strawberry Swing produced by Coldplay
Novacane produced by Tricky Stewart
We All Try, Songs 4 Women produced by Happy Perez
Bitches Talkin' (Metal Gear Solid) produced by Radiohead
LoveCrimes produced by T-Wiz
There Will Be Tears produced by Mr Hudson & T-Wiz
Swim Good produced by MIDI Mafia
Dust produced by Bei Maejor & T-Wiz
American Wedding produced by James Fauntleroy
Nature Feels produced by Andrew VanWyngarden & Ben Goldwasser
channel ORANGE [2012]
1. Start
2. Thinkin' Bout You
3. Fertilizer
4. Sierra Leone
5. Sweet Life
6. Not Just Money
7. Super Rich Kids (feat. Earl Sweatshirt)
8. Pilot Jones
9. Crack Rock
10. Pyramids
11. Lost
12. White (feat. John Mayer)
13. Monks
14. Bad Religion
15. Pink Matter (feat. André 3000)
16. Forrest Gump
17. End / Golden Girl (feat. Tyler, the Creator)
Start, Sierra Leone, Super Rich Kids, Crack Rock, Pyramids, Lost, Monks, Forrest Gump, End / Golden Girl produced by Malay
Thinkin Bout You, Pilot Jones produced by Shea Taylor
Fertilizer produced by Syience
Sweet Life produced by The Neptunes
White produced by Tyler, the Creator and John Mayer
Bad Religion produced by Monte Neuble
Pink Matter produced by Malay and Andre 3000
1. Acura Integurl
2. Bedtime Story
3. Blasted
4. Bricks & Steel
5. Broken Pieces
6. Can't Be The Last Time
7. Day Away
8. Denim
9. Done
10. Dying For Your Love (feat. James Fauntleroy)
11. Flight
12. Focus
13. Follow
14. Go Up
15. Got The Keys
16. Greedy Love
17. Hardest Thing
18. Holly Baby
19. I Need Love
20. If I'm In Love
21. J.O.B.
22. Kamikaze
23. Know Better
24. Lights
25. Lonny
26. Lost Angel (No 2nd Verse)
27. Lost Angel
28. Love On My Piano
29. Miss You So
30. No Bonnie
31. No Love
32. Non-Stop
33. Ohh In Love
34. Old Terror
35. One Look
36. Open Air
37. Overload
38. Private Show
39. Quickly
40. Reach The Stars
41. Ready
42. Real
43. Rewind That
44. Richest Man In The Room
45. Rocket Love
46. Scared Of Beautiful
47. She Won't Say Hello
48. Simply
49. So Comfortable (feat. James Fauntleroy)
50. So Fresh
51. Standing Still
52. Stay If You Go
53. Sucka For Love
54. Sucker For Love
55. Surprise Ending (feat. Brandy)
56. Taste
57. The City
58. Time Machine
59. Together
60. Tonight
61. Truce
62. Wake Up
63. When I'm Done
Blasted, Done, Got The Keys, Greedy Love, Hardest Thing, If I'm In Love, Lights, Miss You So, No Bonnie, Ohh In Love, Old Terror, One Look, Overload, Quickly, Reach The Stars, Richest Man In The Room, Rocket Love, Scared Of Beautiful, Simply, Standing Still, Time Machine, Taste, When I'm Done produced by MIDI Mafia
Bricks & Steel, Follow, Kamikaze, Real, She Won't Say Hello, So Comfortable, Wake Up produced by Underdogs
Broken Pieces produced by Clyde & Harry
Can't Be The Last Time produced by Gil & Vince
Day Away, Denim, Know Better, Lost Angel, Stay If You Go, Together produced by Brian Kennedy
Flight, Go Up produced by J.R. Hutson
J.O.B. produced by Syience
Non-Stop, Private Show produced by J.R. Rotem
Sucka For Love produced by Mansut
The City produced by Tim & Bob
Truce produced by The Runners
(frank contributions only)
7. Analog 2 (Tyler, the Creator, Frank Ocean & Syd)
9. Snow White (Hodgy Beats & Frank Ocean)
13. White (Frank Ocean)
18. Oldie
Wolves by Kanye West feat. Frank Ocean (2016)